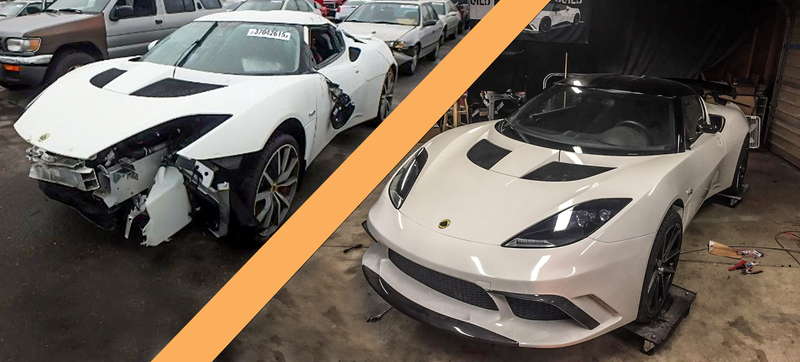 The reason all those stupid car rescue and rebuild reality shows do so well is because they prey on that part of your brain that has convinced you that you can get something for nothing, if only you get the right deal. Well, here's what that looks like without a network budget, completed by one determined guy in a cold Oregon garage. Clear your schedule for the rest of the day.
As the self-proclaimed president of the "That'll buff out" club, I'm no stranger to what it takes to rebuild a discarded diamond in the goat's ass known as the parts car market. However, this Lotus Evora build takes that mentality to new pedantic and cost-cutting heights.
This Lotus Evora was purchased, sight unseen, by an Oregonian car modder and YouTuber named Chris from the salvage car auction house Copart. Its once pristine, hand-built British body was damaged on nearly every panel, with severe damage to the front subframe, suspension, and bumpers. And the undercarriage. And the roof, because it flipped over.

Chris' goal was to have this once desirable supercar, that he obtained for $12,000, to be his daily driver, on a budget of about $25,000, or the price of a new, moderately optioned Toyota Camry. Clearly a man after my own heart.