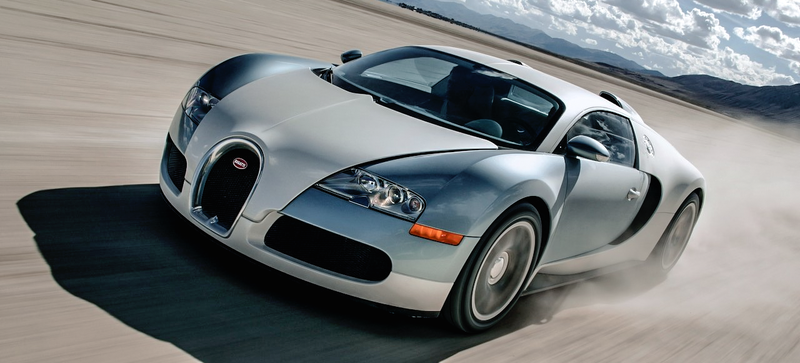 We've all experienced this dilemma—your company goes public and your minority stake is now worth major bucks. You've been eyeing this used Bugatti Veyron, but a handful of affordable islands near French Polynesia just went on the market, with just enough room to build a landing strip for your Gulfstream. What do you do?!
This 2008 Bugatti Veyron (pronounced veh-roan) used to be the fastest car in the world. When I say used to be, I'm not saying that in the sense that the band you liked in high school used to be good before they started touring with Insane Clown Posse. I mean it in the sense that the only car to surpass it with any sort of legitimacy and staying power in the world record department is another Bugatti Veyron. It still is very much relevant and it can still beat the pants off anything with any combination of wheels on a paved road.
This Veyron, let's call it the base model, came equipped with 1,001 horsepower and enough torque to rightly dust off the boots of every one of your fellow equestrians after an afternoon of riding animals that have yet to experience the thrill and immediate embarrassment of becoming self-aware.
The car gets from a standstill to highway speeds in less time than it took you to read this sentence, but let's not pretend like you're buying this car for the speed. You're buying this $1.45 million Volkswagen because you think no one else has one and like a vintage Rolex Submariner, they ain't making 'em anymore.