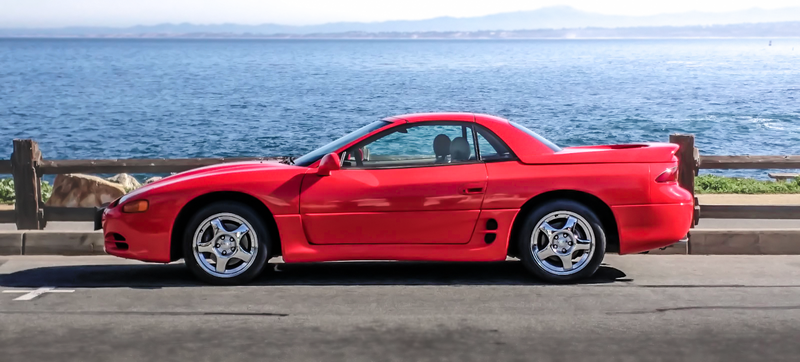 The magical decade known as the 1990s was a great time for car buyers. Manufacturers were throwing out every zany, half-baked ideas in the hopes that they would stick like spaghetti to a wall. One of the more insane offerings made by any automaker was the 3000GT VR4 Spyder, a car that didn't need to exist, but I'm so glad it does. As luck would have it, this ultra-rare twin-turbo gem can now be yours for less than the entry price of a boring-ass used commuter-spec Hyundai. What a time to be alive.
This 1996 Mitsubishi 3000GT VR4 Spyder was a bit of an anomaly, especially for a Japanese car manufacturer. It took the already potent 320 horsepower, all-wheel drive, all-wheel steering platform that attempted to set the world on fire and added a totally necessary drop top.
You see, there were only a few Japanese car manufacturers that offered convertible models in the late '80s and '90s, namely Nissan's 300zx, and Mazda's rotary-powered FC RX-7, but the Mitsu was a tad different in one respect.
Mitsubishi's VR4 Spyder was a quantum leap forward from these designs, as it ditched the traditional soft top for a fully motorized retractable hard top. This made the model the first hardtop convertible sold in the US since the obscure Ford Fairlane Skyline. Mercedes-Benz's hardtop 'vert SLK-class was available in '96, but just missed the first-to-market mark by about a year. The VR4 was, in a very real sense, in a class all its own.
To add to the complexity of the build, the car wasn't exactly a full Mitsubishi manufacture. The cars, before sale, were transported from Mitsubishi's Nagoya plant in Japan to an American company called ASC, with no rear hatch structure and beefed-up A-pillars, made to handle extra load.

The cars were then converted and released as Mitsubishi factory models, in small enough numbers that collectors the world over should be flocking to the model. For the 1996 model year, only 84 VR4 Spyders were ever made, and 38 models with this particular color and options combination were created by ASC. The models at the time commanded a $20,000 premium over the already expensive VR4, making it one of the biggest upgrades to an already top-of-the-line car you could order in the '90s.
For the current four-figure price tag of this amazing-looking example, I'm not sure a more rare car exists on the market today.
As with any used car, this Spyder ain't exactly perfect. However, as I know about the ownership experience of these cars firsthand, I can attest to the fact that if kept reasonably close to stock, there shouldn't be any major surprises during a VR4's ownership.