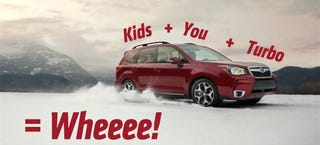 My wife and I are a one car family, that is soon to be growing. It's time to trade the hot-hatch in for something a little bigger. She wants a safe, compact crossover with AWD. I don't want to give up having a quick car that is fun to toss around. Is it possible to have both for under $30,000?
First of all, congratulations on your expanding family. As the father of a two year old and with another on the way, I can understand the change in priorities. The good news is you don't have to drive a rolling snooze box if you want a crossover that is also family friendly. There are several CUVs that share hardware with their hot-hatch stablemates. Here are a few you should consider.
Volkswagen Tiguan SE (MSRP- $29,115)
Kinda Sorta Related Hot-Hatch - Previous generation MK6 GTI/Golf R
The Tiguan is based on the Golf platform and has the most standard horsepower thanks to VW's 2.0T four cylinder turbo previous found in the MK6 GTI. That 200 horsepower is sent to all-four wheels due to a similar Haldex AWD system that used in the Golf R. Of course the downside to the Tiguan is that it was pretty much outdated the moment it was released, and VW has done little to bring the crossover up to speed with the new crop of very competitive vehicles. But it is fairly quick, has solid road feel, and you can have one nicely equipped for about $30,000. Think of it as a bargain Audi Q5.
Mazda CX-5 Grand Touring AWD (MSRP $29,220)
Kinda Sorta Related Hot-Hatch - Mazda3
Put down the pitchforks! I know the Mazda3 is not a hot hatchback. The all new, and quite excellent, Mazda3 shares the same platform with the CX-5. It offers a lot of style, content, and fuel economy for the price. Both the 3 and the CX-5 AWD are powered by an optional 2.5 liter SkyActiv engine that pumps out 184 horsepower. That's not bad and on par with the base power figures in comparison to cars like the CR-V and RAV-4, but you certainly aren't going to win any drag races. What you will get is a crossover that doesn't really feel or handle like your typical CUV. Like its Miata cousin, the CX-5 won't push you into your seat, but it is probably the most fun to rip into an exit ramp.