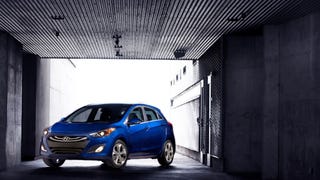 Commuter cars are supposed to be affordable, reliable, and practical. That makes the default choice the Honda Civic or Toyota Corolla. Those are fine machines, but what if you desired something a little more "premium" and with some Euro flair. If so, there is a nice Korean hatchback that is worth a drive.
Some cars are the best in their respective class and rightly get all the press. Others are poor offerings and no one talks about them. But some are just "pretty good" and even though they might not be your first choice they can offer a nice value for your money. Welcome to Lost in the Crowd...where I will highlight a model that doesn't get enough attention or sales, but should be on your radar. The subject of this installment is the Hyundai Elantra GT.
The first thing you need to do in order to appreciate this car is forget about the "GT" badge. I'm somewhat convinced the reason it hasn't sold well is due to the unrealistic expectations that badge brings. I drove an Elantra GT when it was first released as a possible replacement for my Mazda3. As a Mazda replacement it was a bit disappointing, but this car isn't really for buyers like me. It is for people who want a "European-like" hatchback without the European reliability worries.
The Elantra GT is based on Hyundai's European i30 offering, which makes it a great alternative to the VW Golf. When you compare new prices the Hyundai gets clobbered. Even though the the new MKVII is not yet for sale, a two door, gas-powered, Launch Edition with a manual transmission will sticker for $18,851 (including destination) throw in another $500 for the 4-door, making the hypothetical total $19,315. While the Elantra GT has a starting price of $19,560. Loaded models tip the balance slightly back to Hyundai with the a price of $26,360 (including destination) for the Elantra and $27,815 (including destination) for a Golf SEL.
So it's not looking good for the Elantra, but what if you didn't want to buy new. Perhaps you were in the market for a lightly-pre owned Golf or something similar. If so, depreciation is your friend. There are plenty fully-loaded CPO 2013 Elantra GTs, like this one, all with under 10k miles for about $18k. A 10k mile 2013 CPO Golf TDI equipped with navigation is going to set you back around $25k. Is it nice to have a diesel motor? Of course, but when the GT's 4cyl gets 40mpg on regular fuel, I don't know if the Golf is worth the $7k premium.
Even though the Elantra GT isn't going to give you the same thrill as a Mazda3, it does have variable steering with "sport" setting (Torch was fairly impressed with this when he drove the car). It also boasts a responsive suspension that will not only sucks up the bumps, it also isn't afraid of a back road.