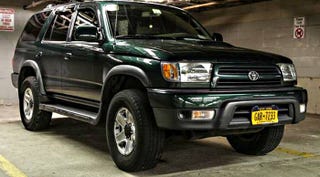 Here's a Craigslist ad that will restore your faith in humanity. It features a 15 year-old Toyota 4Runner that is not only meticulously maintained, but has a detailed, honest description with high quality photos that rivals that of most professional car dealers. Ladies and gentlemen, this is how you sell a car.
This 1999 Toyota 4Runner SR5 resides in one of the most grueling and taxing automotive environments known to man - New York City. It's completed more than 180,000 miles without so much as a cough, due to its seller's stellar (and likely paranoid) maintenance schedule.
For all you budding car salespeople out there, follow the lead of this ad. Post detailed pictures, be meticulous in your description, and be available for prospective clients. For a more detailed guide, check out the article in which I lay out 10 common sense tips for selling a car online.