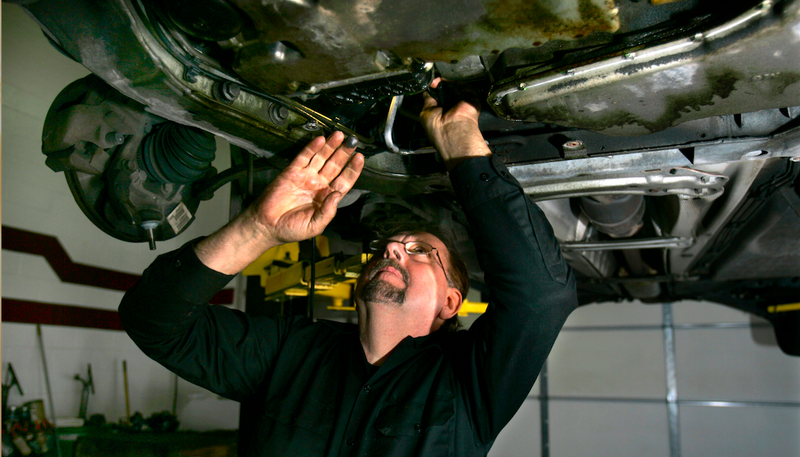 "I hate cars." I never thought I'd understand why someone would string those three words together. Now, after trying to comfort a frustrated friend who got slammed with a huge repair bill, I totally get it. But it doesn't have to be that way.

As someone who's devoted his professional and recreational life to cars, I always try to figure out what could possibly drive people to detest automobiles. After talking to lots of car-haters, it seems one of the main factors causing people to deride these wonderful machines is that feeling of vulnerability as they wait for the mechanic to "tell them the damage."
See, every now and then, I get a call from someone I haven't spoken to in years. "I'm sure he's calling just to catch up and definitely not because he needs something from me," I lie to myself before picking up.

After some brief pleasantries, the person usually gets to the crux of the matter: "So Dave, there's this noise coming from my car, and the shop wants [insert insane number here] to fix it. What do I do?"
The conversation usually ends with me telling the friend what I think is wrong, and the person groveling in self pity because he's at the mercy of a shop. I always feel bad, not just because the person only calls me when he needs answers (just like the college days), but mostly because this person sees cars as just a gigantic pain in ass—and that's not how anyone should feel about cars (though I occasionally feel that way myself).
The Tale Of The Crappy Jeep Compass
What got me thinking about this topic was a call this morning from an actual friend who was feeling down and wanted to tell me what was on her mind. My friend had just taken her Jeep Compass in for inspection, and it failed miserably. What should have been a $20 check up resulted in a $1,200 bill.

The mechanic told her the car had an exhaust leak, a power steering pump that was "on its way out," and a bunch of other issues that would wreak havoc on her pocketbook.
My friend told me how she felt backed into a corner with no way out. There's so much money involved here, and, because she doesn't know anything about cars, she's just trusting some random guy with a wrench.
She has to believe the shop's diagnosis and that the price is fair, knowing full well that the mechanic has strong financial incentive to up-sell and give improper diagnoses. "This makes me want to not have a car; just move to New York City. I hate cars."
That last line broke my heart.
But I get it. When everything seems to be going fine, you go into a shop and get slapped with an unexpected bill that seems arbitrarily high. And you've got no way to know if the shop is being honest. You feel defenseless.
Next thing you know, you're checking out your bank account, and a heavy bead of sweat drips down your forehead as you wonder how you're going to keep your car on the road and pay all your other bills.
People hate cars because they fear them.
Making Rash Decisions
This feeling that they're being taken advantage of often drives people to make rash decisions.
In the case of my friend, whose Jeep Compass—a total crap-can of a car, if we're honest— now has a hefty $1,200 bill looming over its shoddily-built hood, that rash decision involves buying a different car.
The problem is, she realizes that even if she bought a newer used car, there are no guarantees that the car will be any more reliable than the DaimlerChrysler-era piece of shit she's driving now, and she really doesn't want to deal with the stress of car repairs anymore. Dropping $15,000 on a 2014 or 2015 vehicle, while not knowing if she's going to be slapped with a nasty mechanic bill next month makes her feel very uneasy. And I can see why.
Which brought her to the idea of buying a new car, which she sees as her only real way out of the black hole that is the mechanic's bay thanks to the new car's warranty. But, of course, she doesn't want to drop 30 grand, and she'd rather not go to some dealership and haggle with a guy who says bullshit like "let me talk to my manager" while he goes to walk around in circles in the broom closet.