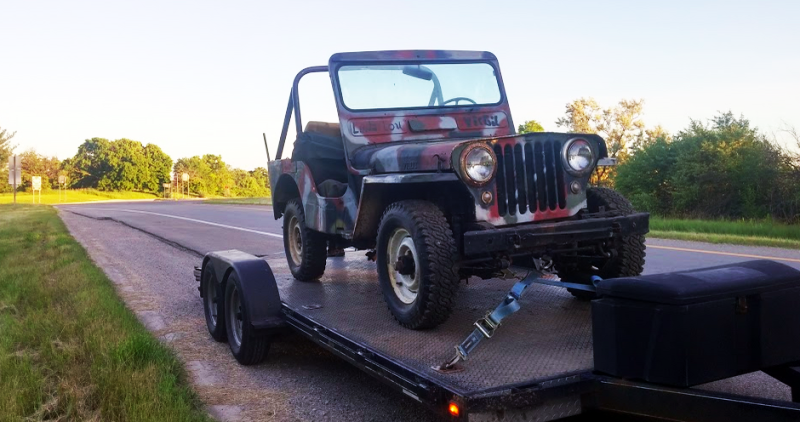 Like everyone, I started surfing Craigslist because I wanted to snag sweet deals. Though I was initially a bit worried about meeting randos from the internet, after seven years of hard-core Craigslisting, I can honestly say, the site has changed my life. Here are some of my best stories of buying stuff from everyone's favorite car-buying site.

Craigslist is the great equalizer; everyone from every social class or race wants to save money, and because of that, I've met some incredible people and seen some places I never would otherwise have explored.
I'm not talking about the "personals" section of Craigslist. You know, the one filled with bizarro missed connection stories about "the big white girl on 10th street that said Hola to me today." That's not the kind of Craigslist I'm talking about.

I'm talking about that sad woman who sold me her ex-boyfriend's motorcycle helmet, that recent divorcee trying to make some money by parting out his Cherokee, that millionaire trying to get his jack stands out of his enormous garage when he finished restoring his father's old Camaro, and that young kid who's headed off to college next month and can't bring the car.
Most of these people I probably would never have otherwise run into. But I did, and I learned about their lifestyles, their families, problems they face everyday, cool places they've been, and experiences they've been through.
See what I mean about enriching my life? Here are my five favorite Craigslist adventures.
The Moonshine And Mud Bog In Yadkinville, North Carolina
My favorite Craigslist story is the tale of my Jeep J10. It began last summer, as I was driving from Michigan to a friend's place in Fayetteville, North Carolina.
I surfed Craigslist at a truck stop along the way, and came upon a J10 pickup, a vehicle I had been lusting after for years. And it had an inline-six and a four-speed manual—just what I was looking for!
I got ahold of the owner, and he told me to stop by on my way home. A few days passed, and I headed towards the guy's farm in Yadkinville. But I couldn't get in touch with anyone. The town was small, so I figured I'd just drive around and ask random people if they knew someone selling a Jeep pickup.
I can across an old man sitting on his front porch. He must have been 90 years old, just sitting on his rocking chair bare-chested with huge globs of food all over his belly. For whatever reason, I remember those globs.
I asked him about the truck, and he just started making noises that sounded somewhat like English, but not enough to tell me what the hell he was talking about. I was saved from the awkward situation by a teenage boy, who was riding his lawnmower down the street. Apparently, the kid was obsessed with modifying riding lawnmowers, and they were his main modes of transportation around town.
In a thick southern accent, the kid said he didn't know about a Jeep truck, but that he had an old CJ out back he'd like to show me. So, like any wise man, I followed the complete stranger into his backyard in the middle of nowhere, North Carolina. The kid showed me an old 1960s CJ-5 that had clearly been sitting in his backyard for a decade. Despite the terrible shape of the Jeep, somehow, the boy got her running right before my eyes.
I asked about food, and the kid led me in my Jeep with his lawnmower to the local diner, where I asked the waitress about the J10. She told me to look at local classifieds; I did, and sure enough, there was the guy who I'd talked to on the phone, along with his home address.
Eventually, I met the guy at his farm just outside of Yadkinville. He hadn't been picking up his phone because he had been baling hay all night, and was really tired that Sunday morning.
The guy sold me the Jeep, and then, before I left, walked down to a shed, grabbed a plastic gallon jug of clear liquid, and handed it to me. "This is untaxed moonshine made by the son of a local NASCAR legend. Enjoy." (That's the moonshine in the picture above).
Then the farmer drew a map on the back of the envelope we had used for our Bill of Sale. After a minute, he drew a star on the map and said "this right here is a mud bog going on right now. If y'all wanna see the whole county at a mud bog, head on down."
We did (see video clip above), and had a great time talking to Jeep and truck owners, and just hanging out with the locals at the mud run.
The Four Young Farmers In The Middle Of Nowhere, Michigan
The CJ-2A project—which I've written about before—took me to an old farm in Michigan, where I met four bearded young farmers out working their fields. There's one of them on the right in the picture above.
Though they were men of few words, they asked me what I did for a living, and told me how they'd never met someone who gets paid to write about cars. We talked about their trucks, their tractors, and their farm, which—based on the plaque by their house—had been in the family for many, many generations.
The guys were very kind and honest about the Jeep. They told me what they knew, we agreed to a price, they pushed the Willys onto the flatbed, and we headed out.

It was a confluence of two disparate social spheres that, had it not been for Craigslist, would otherwise never have happened. There's no way I would have ever gone out into Podunk, Nowhere and seen this old farm if I hadn't spotted that old CJ-2a on Craigslist. And though it doesn't seem like a life-altering story, just getting insight into the way these guys live was something I'll never forget.
The Off-Road Adventure Of A Lifetime In Fenton, Michigan
You can read all about how blowing up my Jeep engine led to a wild alcohol-fueled crazy off-road adventure with a bunch of guys out in the country.
I drove out in the dark through some woods, and wound up at a big barn filled with giant off-road trucks, and young guys like me just wrenching the night away with music blaring in the background. It was heaven.
It became even more heavenly when the group took me for an off-road adventure on their own off-road trail.
I've still got their numbers, so I should probably go back out there and see how Project Swiss Cheese does on those trails.
The Jeep Parts Hoarder Going Through Rough Times
To prepare for my Moab trip, I had to grab some spare parts, so I found a local guy selling transfer cases and axles off Jeep XJs. I went to his place one evening, and what I found was a bit scary.
It was scary in that it almost felt like I was looking at a guy who was me in three years. It was the dead of winter, and freezing outside. And this young guy was filthy from head to toe, wearing coveralls and wrenching in a tiny windowless garage warmed by a propane torpedo heater.
As the heater blared and shot red-hot flames into the room, the guy motioned us in, and we looked in awe at four or five 4.0-liter inline-sixes and tons of AW4 transmissions crowding us in that small garage. This guy had gone off the deep end.
The guy wanted $200 for the transfer case and axles, so I gave it to him. But before we left, he told us about the tough times he was going through, that he didn't have a job, and just wanted to get back on his feet.

He saw me peek at his 4.0-liter sitting on the engine stand. "I'll sell that to you for $150." I told him I had too many projects already. "$100, and it's yours!"
$100 for an engine would have been a steal, but I couldn't do it. The guy loaded up the axles and transfer case into our truck, and we drove off, watching him in our mirror walk through the snow and retreat into his tiny lair.
I've still got his contact info for when I need more parts. Hopefully he's back on his feet.
The Jeep Hoarder Trying To Save Precious History
And then there was Ron Hattner, a man who lives very far off the grid in a house in the middle of the woods in central Michigan. I've visited his property many times in search of Jeep parts, and with every visit, he tells stories about his upbringing in Toledo, his love for Jeeps, and the history of every car on his property.